Windows Server 2022 Datacenter (16 Core, 32 Core & 64 Core)
Windows Server 2022 Datacenter is ideal for highly virtualized datacenters and cloud environments. Windows Server 2022 introduces advanced multi-layer security, hybrid capabilities with Azure, and a flexible application platform. As part of this release, we are bringing secured-core capabilities to help protect hardware, firmware, and Windows Server OS capabilities against advanced security threats.
Supports 1 Admin User / 1 Server / Unlimited VM
1 Server Installation
Licensed for Home and Commercial Use
16 / 32 & 64 Core License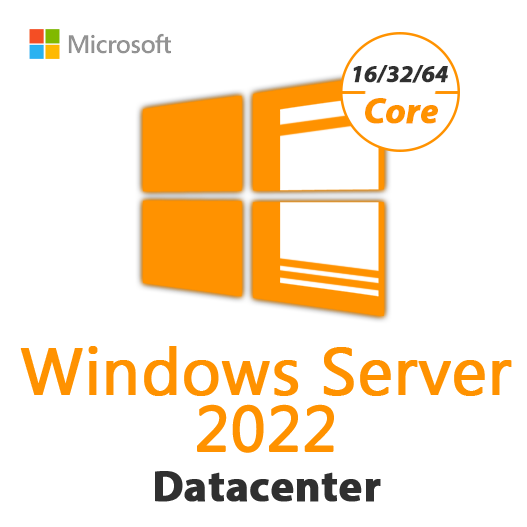 Windows Server 2022 Datacenter (16/32 Core)
With Windows Server 2022 Datacenter, users gain access to features such as server virtualization, storage, software-defined networking, web application platforms, server management and automation, information protection, virtual desktops, and much more.
Windows Server 2022 also helps to prevent malicious attacks against your system with a strengthened security suite that also detects any suspicious activity as a preventative measure. Users can change existing applications into cloud-ready solutions and help developers to create new ones using containers, microservices, and Nano Server. Your datacenter can be run with an automated and resilient operating system and will have access to many of the same cloud-efficient features found in Microsoft Azure datacenters.
Web Application Platforms
Software-Defined Networking
Why upgrade to Windows Server 2022
With Windows Server 2022 datacenter, customers can continue to securely run their workloads, enable new hybrid cloud scenarios, and modernize their applications to meet evolving business requirements. Let's dive into the new technical capabilities of Windows Server 2022 and how customers can take advantage of these to modernize their server environment.

Advanced multi-layered security
Security has always been a cornerstone of Windows Server. With security top of mind for our customers, we are introducing numerous security enhancements in Windows Server 2022. In this release, customers can take advantage of multi-layer security with Secured-core server and secured connectivity. Secured-core server means our hardware partners have provided hardware, firmware, and drivers to help customers harden the security of their critical systems. It allows IT and SecOps teams to apply comprehensive security broadly in their environment with Secured-core server's advanced protection and preventive defense across hardware, firmware, and virtualization layers.
Secured connectivity in Windows Server 2022 adds another layer to security during transport. The new release adds faster and more secure encrypted hypertext transfer protocol secure (HTTPS) and industry-standard AES-256 encryption with support for server message block (SMB) protocol.

Hybrid capabilities with Azure
Customers are choosing a hybrid and multicloud approach to digitally transform their businesses. They can now take advantage of cloud services with on-premises Windows Server 2022 by connecting with Azure Arc.
Additionally, in Windows Server 2022 customers can take advantage of the File Server enhancements such as SMB Compression. SMB Compression improves application file transfer by compressing data while in transit over a network. Finally, Windows Admin Center, a tool loved by admins, brings modern server management experience such as with a new event viewer and gateway proxy support for Azure connected scenarios.

Flexible application platform
Customers who upgrade to Windows Server 2022 can take advantage of scalability improvements such as support for 48TB of memory and 2,048 logical cores running on 64 physical sockets for those demanding Tier1 applications. In this release, customers can also take advantage of advancements to Windows containers. For example, Windows Server 2022 improves application compatibility of Windows containers, includes HostProcess containers for node configuration, supports IPv6 and dual-stack, and enables consistent network policy implementation with Calico. Furthermore, we are continuing to work with the Kubernetes community to enable Windows Server 2022 container support and bring the new capabilities to Azure Kubernetes Service (AKS) and AKS on Azure Stack HCI.
Get more from Windows Server
In the last year, we have not only introduced Windows Server 2022 datacenter but also introduced Azure services and service enhancements for Windows Server. Let's look at the two common scenarios and capabilities that customers can take advantage of.

Azure Automanage (in preview) enables IT pros to not only automate cloud best practices but also put into practice our enterprise expertise with the Microsoft cloud adoption framework. With Azure Automanage for Windows Server, customers can migrate to Azure easily without any changes to network IP, securely do file transfer to Azure using SMB over QUIC, and implement hotpatch for new Windows Server Azure Virtual Machines.
To modernize existing applications, customers have many options in Azure depending on their application architectural needs. For example, Azure Kubernetes Service (AKS) with native .NET support enables customers to modernize applications with Kubernetes, the container orchestrator of choice for many.

Many customers need to run applications and services on-premises. Through Azure Arc and Azure Stack HCI, customers can modernize the management and virtualization layers, respectively. Similarly, customers who want to modernize their Windows Server applications on-premises can use AKS on Azure Stack HCI.
While we will continue to introduce new capabilities in Window Server Long Term Servicing Channel (LTSC), we will also enable new scenarios in Azure that make it simple for customers to modernize their Windows Server IT environment.
Additional information
| | |
| --- | --- |
| Manufacturer | Microsoft |
| Licensing Type | Retail |
| Licensing Term | Lifetime, One Time |
| Plateforme Supported | Windows |
| Users Supported | 1 User |
| Devices Supported | 1 Device |
| Language | All Languages |
| Delivery Method | Digital Instant Delivery |
Why Choose Super License Key!