Windows Server 2016 Standard
Standard edition of windows server 2016 is ideal for any company or individual that that needs advanced features but will still not be virtualizing heavily.
Added Layers of Security
Built-In Containers
New Deployment Options
Innovative Networking
Cost-Efficient Storage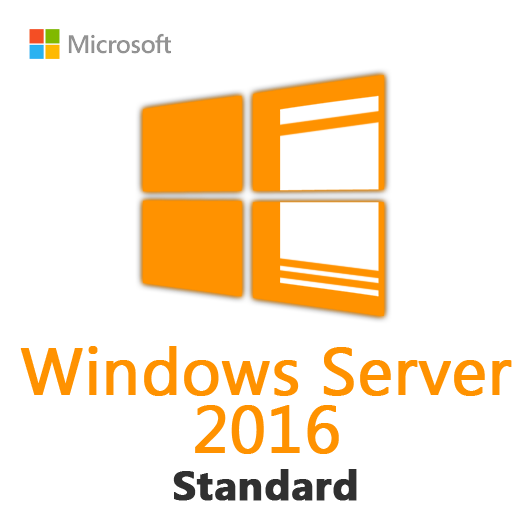 What is Windows Server 2016 Standard
Microsoft Windows Server 2016 Standard Edition is a functional server operating system for users that need a robust system, the standard Windows Server 2016 is adapted to the Azure cloud to apply new security to your company's applications and infrastructure. This system allows you to enhance security and reduce risk through multiple layers of security built into the operating system. This version allows you to save money with network and storage technologies.
Increase availability and reduce resource usage with the lightweight Nano Server
Build highly available, scalable software-defined storage and reduce costs
Develop and manage with agility thanks to Windows Server and Hyper-V containers
Software-defined networking to automate with cloud-like efficiency
Enhance security and reduce risk with multiple layers of built-in protection
Enhance Security with Windows Server 2016
Rely on new layers of protection built into the operating system to further safeguard against security breaches. Help block malicious attacks and enhance the security of your virtual machines, applications, and data.
Protect Administrator Credentials
Help guard administrator credentials from Pass-the-Hash attacks by using Credential Guard and Remote Credential Guard. Limit administrator privileges with Just-In-Time Administration and Just Enough Administration.
Virtualize without compromising security
Use Shielded Virtual Machines to help protect your virtual machines from a compromised fabric as well as improve your compliance. Shielded Virtual Machines are encrypted using BitLocker and will run on healthy hosts.
Protect the applications that run on your operating system, anywhere it's deployed
Enhance the protection of your applications on-premises or running in the cloud. Help ensure only trusted software runs on the server with Device Guard. Help protect against memory corruption attacks with Control Flow Guard. Help protect against known malware with Windows Defender optimized for server roles.

Increase application isolation
Help protect container-based applications with Hyper-V containers. Use the distributed firewall, a software-defined networking capability, to control internal and external network traffic to virtual machines.

Detect security threats quickly
Help detect suspicious behavior in the kernel or other sensitive processes with advanced auditing capabilities. Plus, use Microsoft Operations Management Suite Insights & Analytics tools to set up alerts and reporting.
Increase efficiency & agility with a software-defined datacenter
Solve your operational and budgetary challenges. Blend physical and virtual infrastructures through software-defined compute, storage, and networking technologies.
Respond faster with rapid network scale
Move your network-control layer from hardware to software. Automatically balance and shift workloads without setting switches.
Rely on resilient compute
Run your datacenter with the utmost confidence with an automated, resilient server operating system.
Get affordable high-performance storage
Increase datacenter efficiency and reduce storage management costs with software-defined storage capabilities
Innovate faster when you build apps on Windows Server
Transform the way you develop, deploy, and run your applications with a modern DevOps environment. Bring agility, scale, and security benefits to existing applications, while building next-generation applications optimized for the cloud.

Move existing apps to containers
Move your traditional applications into a modern DevOps environment with little or no code changes. Enable "write-once, run anywhere" apps to deploy on-premises, to any cloud, or in a hybrid architecture with containers. It's consistency across dev, test, and production.

Run current applications on a secure, software-defined fabric
Run your existing apps on Windows Server 2016 without modifying them. Take advantage of enhanced security and efficiency features on the fabric.

Build cloud and hybrid apps
Combine the benefits of containers with Nano server, Azure Service Fabric, and Windows Server for true business agility in cloud-native apps. Create microservices applications using fewer and compressed resources. Develop faster using the lightweight Nano Server installation option. And use Service Fabric to build always-on, scalable, and distributed applications to run in Azure, on-premises, or both.
Additional information
| | |
| --- | --- |
| Manufacturer | Microsoft |
| Licensing Type | Retail |
| Licensing Term | Lifetime, One Time |
| GTIN | 190017120584 |
| EAN | 0190017120584 |
| Plateforme Supported | Windows |
| Users Supported | 1 User |
| Devices Supported | 1 Device |
| Language | All Languages |
| Delivery Method | Digital Instant Delivery |
Why Choose Super License Key!