With the new Windows, you get the best of work and play. Windows 8.1 Pro includes everything in Windows 8.1, plus enhanced features that help you easily connect to company networks, manage your devices, access one PC from another, encrypt your data, and more.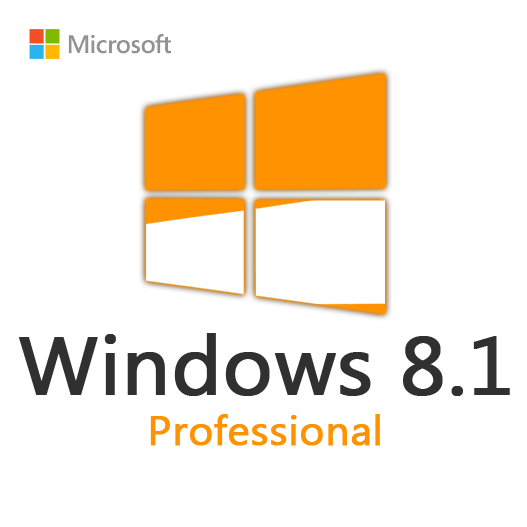 What is Windows 8.1 Professional
Windows 8.1 Pro (Professional) is the enhanced version of Windows 8, which is designed specifically for touch screens and on this platform type professional users and companies optimized work support. The Windows 8.1 Professional operating system is not only compatible with compatible tablets and handhelds, but can also be used as usual via mouse and keyboard on the laptop or computer. Microsoft Windows 8.1 Professional supports its users with a redesigned interface, an optimized system, as well as new functions and programs to the perfect extent.
With Microsoft Windows 8.1 Professional, compared to the Windows 8 Pro, some optical and system engineering optimizations were implemented. The most striking difference is the option to have the desktop tiled or classical. Also the start menu of the Windows 8.1 Pro operating system can now be displayed with the right mouse button, similar to Windows 7, if required. Thus, users are supported in both the operation via touch screens as well as with the mouse and keyboard with the appropriate setting. In addition, come with Windows 8.1 Professional numerous new pre-installed modern apps. Also the previous apps like Videos, Music,  Camera  and  Photos  have been enhanced in the Windows 8.1 Professional operating system.
What's new with Windows 8.1 Pro
Stay connected to your photos and important files and access them on your phone, tablet or PC with SkyDrive. By signing in with your Microsoft account to any of your PCs running Windows 8.1 and you'll immediately see your own background, display preferences, and settings.
Mouse, Keyboard and now Touch
Windows 8.1 Professional works harmoniously with various types of devices, including touch, mouse-and-keyboard, or both. Whatever kind of device you have, you'll discover fast and fluid ways to switch between apps, move things around, and go smoothly from one place to another.
Experience Office at its best on Windows 8 devices. Discover new and better ways to create, edit, and browse—using a keyboard, pen, or touchscreen. Don't forget: Office is not part of Windows 8.
In addition to great built-in apps for email, people, photos and video editing – you can also download thousands of popular apps from the Windows Store, including Netflix, ESPN, Skype and Halo: Spartan Assault.
Personalize your Start screen with your favorite news, friends, social networks, and apps. Customizable colors and backgrounds and four different sizes of tiles make your device as unique as you are.
It Plays as Hard as it Works
Windows 8.1 Professional gives you the power to quickly browse, watch movies, play games, polish your resume, and pull together a killer presentation — all on a single PC. Now you can organize up to three apps on your screen at once in a single view.
From the Start screen, you are just a click away from the familiar Windows desktop you know so you can do the stuff you've always done.
Programs that run on Windows 7 will run on Windows 8.1 Pro.
You Keep Familiar Programs
Wish you'd been able to capture the moment with photos? Now you can automatically extract great photos from your raw video footage. POWERED BY ADOBE SENSEI
If your PC is running Windows 7, your files, apps and settings will easily transfer to Windows 8.1 Pro.
It's easy to do more at once. Snap multiple apps side by side in a single view for easy multitasking.
Stay up to date and more secure with Windows Defender, Windows Firewall, and Windows Update.
Before downloading Windows 8.1 Pro, your PC must satisfy the following requirements:
Processor : 1 gigahertz (GHz)* or faster with support for PAE, NX, and SSE2
RAM: 1  gigabyte (GB) (32-bit) or 2 GB (64-bit)
Hard disk drive : 16 GB (32-bit) or 20 GB (64-bit)
Graphics : Microsoft DirectX 9 graphics device with WDDM driver
Additional information
| | |
| --- | --- |
| Manufacturer | Microsoft |
| Licensing Type | Retail |
| Licensing Term | Lifetime, One Time |
| GTIN | 885370633344 |
| EAN | 0885370633344 |
| Plateforme Supported | Windows |
| Users Supported | 1 User |
| Devices Supported | 1 Device |
| Language | All Languages |
| Delivery Method | Digital Instant Delivery |
Why Choose Super License Key!