Windows 11 Home to Pro Upgrade Key
This product (Windows 11 Home to Pro Upgrade Key) will secure your upgrade to Windows 11 Professional from Home version whenever its convenient for you. It is the perfect edition for the small to mid-size business owner or the complex, self-employed power users that need to link all their information, clients, and sensitive files and keep it all safe. This operating system comes with all the basics of the trusted Home edition and adds all the security, compatibility, and connectivity that businesses trust to protect all their sensitive information.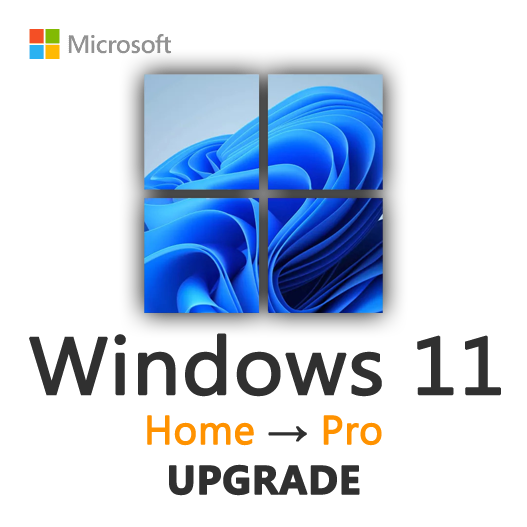 Plan To Upgrade To Windows 11 Pro From Home
If you are the everyday home user with the basic needs of email, Facebook, Twitter, grocery lists, and your usual high school or college research paper, then Windows 11 Home is the perfect edition for you, you don't need to continue reading this. But if you looked at Windows 11 Home and realized that you needed a little more in your operating system, then this is the system for you. Windows 11 Pro is designed for power users and businesses with needs that your' average everyday user doesn't even need to consider. Pro comes equipped with all the things that multifaceted users could possibly need. The user that needs this system runs a business and a household 24/7, with multiple employees, offices, and kids that all need monitoring.
What you will receive is product license key allowing you to either UPGRADE (to keep your existing programs and Documents). You do not need anything else. Just open the activation settings and use the provided license key to upgrade your windows 11 Home to Pro.
Select Start > Settings > System > Activation.
Select Change product key, and then enter the 25-character Windows 11 Pro product key.
Select Next to start the upgrade to Windows 11 Pro.
Summary Of Feature Differences
If you want to see the major feature differences at a glance, here's a quick rundown
| Feature | Windows 11 Home | Windows 11 Pro |
| --- | --- | --- |
| Windows Hello | Yes | Yes |
| Device encryption | Yes | Yes |
| Firewall and network protection | Yes | Yes |
| Internet protection | Yes | Yes |
| Parental controls/protection | Yes | Yes |
| Secure Boot | Yes | Yes |
| Windows Defender Antivirus | Yes | Yes |
| Set up with a local account | No | Yes |
| Join Active Directory/Azure AD | No | Yes |
| Hyper-V | No | Yes |
| Windows Sandbox | No | Yes |
| BitLocker device encryption | No | Yes |
| Windows Information Protection | No | Yes |
| Mobile device management (MDM) | No | Yes |
| Group Policy | No | Yes |
| Enterprise State Roaming with Azure | No | Yes |
| Assigned Access | No | Yes |
| Dynamic Provisioning | No | Yes |
| Windows Update for Business | No | Yes |
| Kiosk mode | No | Yes |
| Microsoft Remote Desktop | Client only | Yes |
| Maximum RAM | 128GB | 2TB |
| Maximum no. of CPUs | 1 | 2 |
| Maximum no. of CPU cores | 64 | 128 |
Business management and deployment in Windows 11 Pro
Enterprise-grade encryption. Cloud management that enables work from anywhere. It's just what businesses need, and success demands.
Windows 11 Professional devices run different applications depending on the user and keep individual identities separate and secured.
Take a new PC out of the box, turn it on, and transform it into a productive organisation device, with minimal time and effort.
Manage PCs, user accounts, and groups, and get easy access to files and printers when you pair Windows 11 Professional with Windows Server.
Enterprise state roaming with Azure
Available to any organisation with an Azure AD Premium or Enterprise Mobility + Security (EMS) license, Enterprise State Roaming provides users with a unified experience across their Windows devices and reduces the time needed for configuring a new device.
Support for Active Directory
Domain Join + Group Policy: IT staff can easily manage PCs, user accounts and groups, security policies, and can get easy access to files and printers when pairing Windows 11 Professional with Windows Server.
Windows update for business
Helps reduce management costs, provides control over update deployments, enables efficient delivery of updates, and provides access to the latest innovations.
Configure a device locally on the device or remotely using Mobile Device Management.
Microsoft store for business
Your one place to find, manage, and distribute apps to Windows 11 professional devices in volume.
Mobile Device Management (MDM) provides an alternative to traditional PC management processes so you can transition to cloud-based management at your own pace.
For Windows 11, all systems will need a TPM 2.0 chip. TPM is short for Trusted Point Module, and it's primarily known as a means for security in PCs.
According to Microsoft, these are the system requirements for running Windows 11 Professional:
CPU: 1 gigahertz (GHz) or faster with 2 or more cores on a compatible 64-bit processor or System on a Chip (SoC)
RAM: 4GB
Storage: 64GB of larger
System firmware: UEFI, Secure Boot capable
TPM: Trusted Platform Module (TPM) version 2.0
Graphics card: Compatible with DirectX 12 or later with WDDM 2.0 driver
Display: High definition (720p) display that is greater than 9" diagonally, 8 bits per color channel
Additional information
| | |
| --- | --- |
| Manufacturer | Microsoft |
| Licensing Type | Retail |
| Licensing Term | Lifetime, One Time |
| Plateforme Supported | Windows |
| GTIN | 889842905892 |
| Users Supported | 1 User |
| Devices Supported | 1 Device |
| Language | All Languages |
| Delivery Method | Digital Instant Delivery |
Why Choose Super License Key!