SQL Server 2019 Enterprise
Enterprise Edition of SQL Server 2019 is ideal for applications requiring mission critical in-memory performance, security and high availability
Analyse every type of data
Choose your language and platform
Rely on industry-leading performance
Trust nine years of proven security leadership
Make faster, better decisions
SQL Server 2019 Big Data Clusters with Enterprise Edition as Master instance get 8 times the master instance cores as Big Data Nodes core SA entitlement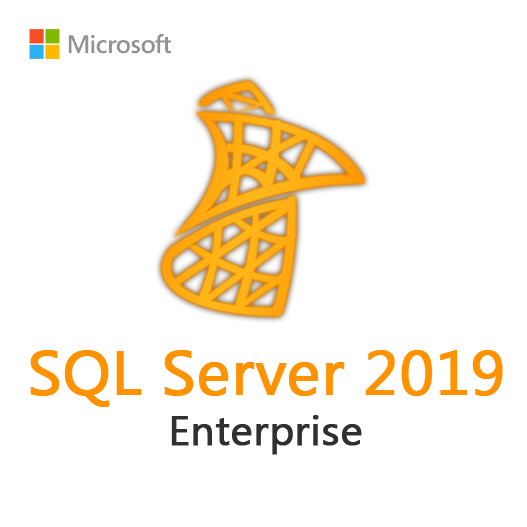 What is SQL Server 2019 Enterprise
SQL Server 2019 Enterprise gives industry-leading execution and knowledge over the entirety of your data, structured and unstructured. In addition, SQL Server 2019 would now be able to be the center for your whole information home, with the capacity to query any database like Oracle, MongoDB, Cassandra, and Hadoop in an exceptionally secure and profoundly performant way—all without moving or replicating the data.
With SQL Server 2019 Enterprise access mission-critical capabilities to achieve unparalleled scale, security, high availability, and leading performance for your Tier 1 database, business intelligence, and advanced analytics workloads.
What you'll adore about SQL Server 2019

Trust 9 years of confirmed security leadership
Accomplish your security and consistence objectives utilizing the database appraised as least vulnerable throughout the most recent nine years. Remain a stride ahead utilizing worked in highlights for data grouping, data protection and surveillance and alerts.

Make quicker and greater decisions
Transform information into answers utilizing the reporting abilities of SQL Server Reporting Services alongside the included Power BI Report Server, which gives you access to rich, intelligent Power BI covers any device.
Choose your platform and language
Get the flexibility to use your preferred platform and language with open source support. Run SQL Server on Windows or on Linux containers with Kubernetes support.

Count on industry-leading performance
Benifit of advancement adaptability and performance to improve the strength stability and response time of your database – without making application changes. Get high accessibility for mission-critical, data lakes and data warehouses.

Get an overview from all your data by querying across relational, non-relational, structured and unstructured data, for an integrated concept of your business utilizing SQL Server 2019 with Apache Spark built-in.

Build a shared data lake by combining both structured and unstructured data in SQL Server and accessing the data using either T-SQL or Spark.

Gain insights from all your data by querying across your entire data estate—SQL Server, Azure SQL Database, Azure SQL Data Warehouse, Azure Cosmos DB, MySQL, PostgreSQL, MongoDB, Oracle, Teradata, HDFS, and others—without moving or replicating the data.
Why choose SQL Server 2019 Enterprise
Run faster transactions with enhanced high availability and performance.
Get in-database machine learning with R and Python as well as self-service reports and dashboards through Power BI Report Server and Mobile BI.
Run mission-critical workloads using Windows, Linux, and containers on premises, in the cloud, or in hybrid environments.
Integrate, manage, and analyze both relational and unstructured big data using data virtualization and big data clusters.
Use Microsoft SQL Server 2019 big data clusters as an analytical data lake with built-in support for Hadoop Distributed File System (HDFS) and Spark.
Analyze and score large amounts of data with machine learning and processing platforms like Spark.
Reduce the need for Extract, Transform, and Load (ETL) applications by eliminating data movement.
Integrate and secure machine learning applications with scalable performance.
Reduce the need for application and query changes to gain a boost in performance.
Increase confidential computing of data through hardware enclaves.
Increase application and database uptime and availability through features like ADR (Advanced Database Recovery).
Extend the power of the T-SQL language in a secure and robust fashion.
Run applications and deploy databases across multiple operating systems and platforms with compatibility.
Reduce the risk of upgrades while using new SQL capabilities when you are ready though inbuilt database compatibility levels.
Additional information
| | |
| --- | --- |
| Manufacturer | Microsoft |
| Licensing Type | Retail |
| Licensing Term | Lifetime, One Time |
| GTIN | 606024487829 |
| EAN | 0606024487829 |
| Plateforme Supported | Windows |
| Users Supported | 1 User |
| Devices Supported | 1 Device |
| Language | All Languages |
| Delivery Method | Digital Instant Delivery |
Why Choose Super License Key!