Office 365 Enterprise E5 (12 Months)
Office 365 Enterprise E5 is a cloud-based suite of Microsoft 365 productivity apps combined with advanced voice, analytics, security, and compliance services.
Install Microsoft 365 for mobile on up to five PCs or Macs, five tablets, and five phones per user.
Make, receive, and transfer business calls from anywhere, using any device.
Make informed decisions with data analytics and visualization.
Safeguard your organization against malicious threats posed by email messages, links (URLs), and collaboration tools.
Assess your compliance risks, govern and protect sensitive data, and effectively respond to regulatory requirements.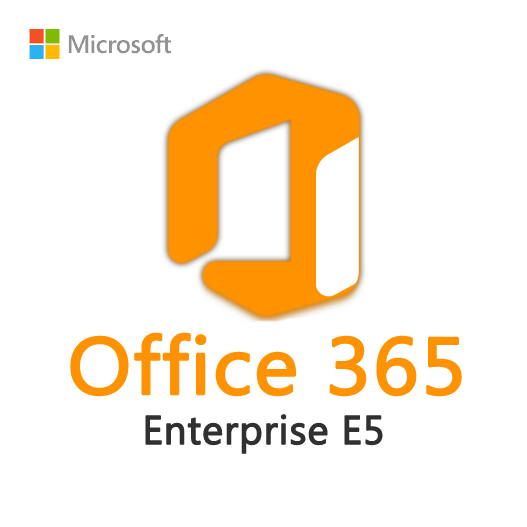 What is Office 365 Enterprise E5
Office 365 Enterprise E5 is an enterprise solution with best-in-class productivity apps and advanced security, compliance, voice, and analytical capabilities.
With Office 365 E3 you can simplify your infrastructure with one platform for calling, conferencing, video, and sharing. Connect your teams with the experience they love in the Office applications they use every day. Easy-to-use live data monitoring and in-depth analysis tools let you discover new stories in your data with even more interactive reports, simpler dashboards, and compelling data visualizations. Microsoft handles your security so you don't have to. Now you have even more control with increased privacy, transparency, and refined user controls.
Benefits unique to Office 365 E5

Microsoft Teams Phone Standard
Work smarter with 100 GB of business-class email and calendaring.

Deliver insights to enable fast, informed decisions with business analytics.

Microsoft Defender for Office 365 Plan 2
Protect your organization against sophisticated attacks such as phishing and zero-day malware.

Microsoft 365 Cloud App Security
Get rich visibility into the apps used in your organization, sophisticated analytics to identify and combat cyberthreats, and real-time monitoring and control over data travel.

Microsoft Teams Audio Conferencing
Conduct or call in to meetings from your phone with Microsoft Teams Audio Conferencing, which allows up to 250 phone attendees.

Install Microsoft 365 apps, such as Word, Excel, PowerPoint, OneNote (PC only), and Access (PC only), on up to five PCs or Macs, five tablets, and five phones per user.
Use this service, along with the Microsoft 365 tools you already use, to collaborate with teammates when writing documents, creating spreadsheets, working on project plans, scheduling meetings, or sending email.

Use Microsoft 365 apps designed for mobile devices and tablets.

Connect and stay organized with email, calendar, and contacts all in one place.

Chat, meet, share files, and use business apps within a shared workspace.

Upload, organize and share intelligent video content companywide.

Power Apps for Microsoft 365
Build the business apps you need and extend or customize the apps you already use.
Power Automate for Microsoft 365
Make repetitive tasks easy with workflow automation.

Power Virtual Agents for Teams
Respond to business needs with custom chatbots for Teams.

Build with confidence on a low-code database for Teams.

Plan your day and manage your life.

Microsoft Viva Insights (personal insights)
Help employees thrive with data-driven, privacy-protected insights and personal wellbeing experiences.

Microsoft Viva Connections
Keep employees engaged and informed with a modern engagement experience.

Create, share, and collaborate from wherever you are.

Manage your Microsoft 365 profile with Delve. Plus, discover and organize the information that's most relevant to you right now across all your Microsoft 365 apps.

Collaborate on ideas and content with a freeform digital canvas, now integrated with Microsoft Teams.

Connect and engage with enterprise social networking.

Create visually striking newsletters, presentations, and documents in minutes.

Easily create surveys, quizzes, and polls.
Organize teamwork, create new plans, assign tasks, share files, chat, and get updates on progress.

Enable frontline workers and their managers to manage schedules and keep in touch using their mobile devices.
Use this unified programmability model to access data to build apps for organizations and consumers that interact with millions of users.
Microsoft Viva Engage (community and conversations)
Build meaningful relationships at work by giving employees a place to connect, express themselves, and find belonging.

Create, edit, share, and coauthor professional diagrams and flowcharts with Visio for the web.

Share and manage content, knowledge, and apps with SharePoint Online storage. Empower teamwork, quickly find information, and seamlessly collaborate across the organization.

Access 1-5+ TB of personal cloud storage from anywhere, on any device.3 Easily share documents with others inside and outside your organization and control who can see and edit each file.

Work smarter with 100 GB of business-class email and calendaring.

Simplify how customers schedule and manage appointments.

Group policy support, Microsoft 365 telemetry, roaming settings

On-premises Active Directory sync for single sign-on (SSO)

Multilingual user interface for Microsoft 365 apps

Shared computer activation
Office 365 Enterprise E5 Apps included
Processor : 1 gigahertz (GHz) or faster x86- or x64-bit processor with SSE2
Operating System : Windows 11, Windows 7 Service Pack 1, Windows 8.1, Windows 10, Windows 10 Server, Windows Server 2012 R2, Windows Server 2008 R2, or Windows Server 2012
Memory : 1 GB RAM (32-bit); 2 GB RAM (64-bit)
Hard disk drive : 3 GB of available disk space
Display : 1024 x 768 resolution
Processor : Intel processor
Operating System : macOS
Memory : 4 GB RAM
Hard disk drive : 6 GB HFS+ hard disk format
Display : 1280 x 800 resolution
Processor : Android KitKat 4.4 or later version and have an ARM-based or Intel x86 processor.
Operating System : OS version: KitKat (4.4.X) or above
Memory : 1 GB
Hard disk drive : N/A
Display : N/A
Processor : N/A
Operating System : Office for iPad® and iPhone® requires iOS 10.0 or later. Office for iPad Pro™ requires iOS 10.0 or later.
Memory : N/A
Hard disk drive : N/A
Display : N/A
Additional information
| | |
| --- | --- |
| Manufacturer | Microsoft |
| Licensing Type | Retail, Subscription |
| Licensing Term | 12 Months |
| Plateforme Supported | Android, iOS, Mac, Windows |
| Users Supported | 100 User |
| Devices Supported | 500 Device |
| Language | All Languages |
| Delivery Method | Digital Instant Delivery |
Why Choose Super License Key!