Office 365 Enterprise E3 (12 Months)
Microsoft 365 Enterprise E3 combines best-in-class productivity apps with core security and compliance capabilities.
Improve productivity and foster a culture of collaboration with connected experiences.
Transform how you manage your business and enhance customer relationships with integrated workflows.
Proactively protect your employees, data, and customer information with intelligent security
Five layers of security and monitoring help keep customer data safe.
Reduce IT costs, and move to the cloud on your terms
Features: Mobility, Access control, Office for the web, Email and calendars, Hub for teamwork, Workflow automation, Online meetings, Pro digital storytelling, File storage and sharing, Enterprise video service.
Includes: Word, Excel, PowerPoint, Outlook, OneNote, SharePoint, OneDrive, Microsoft Teams…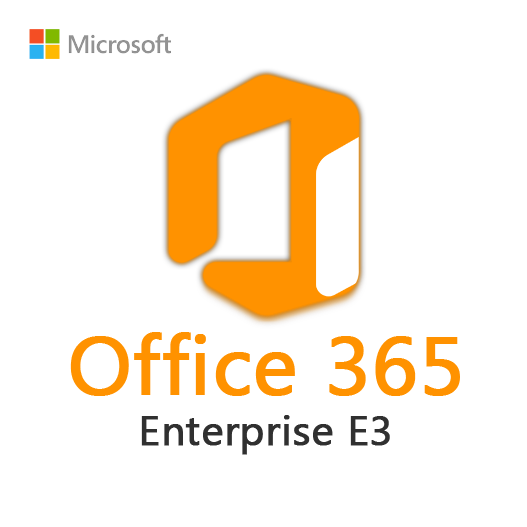 What is Office 365 Enterprise E3
Microsoft Office 365 Enterprise E3 is an intelligent and integral solution that permits anyone to be creative and work together safely.
Although designed for large organizations, Office 365 Enterprise E3 may also be used for medium and small businesses that require advanced security and productivity features.

Experience our most powerful operating system with built-in security, manageability, and productivity features.

Use Office apps designed for Windows mobile devices and tablets.

Reduce overall costs of deploying, managing, and retiring Windows devices by leveraging cloud-based services.

Proactively remediate common end-user device issues, reduce support calls, and improve end-user productivity.

Enable your workforce to be productive on all their mobile devices, while helping to keep your organization's information protected.
Protect derived domain credentials.

Azure Active Directory Premium
Enhance security, simplify access, and set smart policies with a single identity platform.

Windows Defender Antivirus
Protect against software threats like viruses, malware, and spyware across email, apps, the cloud, and the web.
Microsoft 365 data loss prevention
Use automatic or ad-hoc policies to protect sensitive messages regardless of the recipient's email domain.

Address threats of data theft or exposure from lost, stolen, or inappropriately decommissioned computers.

Microsoft Security and Compliance Center
Monitor your overall compliance posture, review recommended actions, and configure settings to meet complex compliance obligations.

Microsoft 365 Apps for enterprise
nstall Office client apps (Word, Excel, PowerPoint, OneNote (PC only), Access (PC only)) on up to five PCs or Macs, five tablets, and five smartphones per user.

Create, share, and collaborate with Office on the web.

Microsoft 365 Admin Center
Set up your organization in the cloud. Manage users and subscriptions, reset passwords, and much more.

Review and monitor an extensive amount of data about the state of devices in your deployment.

System Configuration Manager
Deploy software, protect data, monitor health, and enforce compliance across all devices in an organization within a unified management console.

Sign into laptops, tablets, devices, or apps fast and password-free.
Connect remote users without the need for traditional Virtual Private Network (VPN) connections.
Microsoft Advanced Threat Analytics
Reduce your risk of damage and get information in a succinct, real-time view of the attack timeline.

Help prevent malicious code from running by ensuring only known good code can run.

Windows Information Protection
Protect enterprise apps and data against accidental data leak on enterprise and personal devices.

Increase your visibility and control over your organization's security posture with a centralized dashboard.
Office 365 Enterprise E3 Apps & Services
Processor : 1 gigahertz (GHz) or faster x86- or x64-bit processor with SSE2
Operating System : Windows 11, Windows 7 Service Pack 1, Windows 8.1, Windows 10, Windows 10 Server, Windows Server 2012 R2, Windows Server 2008 R2, or Windows Server 2012
Memory : 1 GB RAM (32-bit); 2 GB RAM (64-bit)
Hard disk drive : 3 GB of available disk space
Display : 1024 x 768 resolution
Processor : Intel processor
Operating System : macOS
Memory : 4 GB RAM
Hard disk drive : 6 GB HFS+ hard disk format
Display : 1280 x 800 resolution
Processor : Android KitKat 4.4 or later version and have an ARM-based or Intel x86 processor.
Operating System : OS version: KitKat (4.4.X) or above
Memory : 1 GB
Hard disk drive : N/A
Display : N/A
Processor : N/A
Operating System : Office for iPad® and iPhone® requires iOS 10.0 or later. Office for iPad Pro™ requires iOS 10.0 or later.
Memory : N/A
Hard disk drive : N/A
Display : N/A
Additional information
| | |
| --- | --- |
| Manufacturer | Microsoft |
| Licensing Type | Retail, Subscription |
| Licensing Term | 12 Months |
| Plateforme Supported | Android, iOS, Mac, Windows |
| Users Supported | 5 Users |
| Devices Supported | 25 Devices |
| Language | All Languages |
| Delivery Method | Digital Instant Delivery |
Why Choose Super License Key!