Microsoft 365 E5 Enterprise
Microsoft 365 E5 Enterprise combines best-in-class productivity apps with advanced security, compliance, voice, and analytical capabilities.
Extend identity and threat protection with integrated and automated security to help stop damaging attacks.
Bring together information protection and advanced compliance capabilities to protect and govern data while reducing risk.
Get audio conferencing and calling capabilities in the cloud to enable your teams.
Benefit from Power BI capabilities that help you realize significant business value from your data.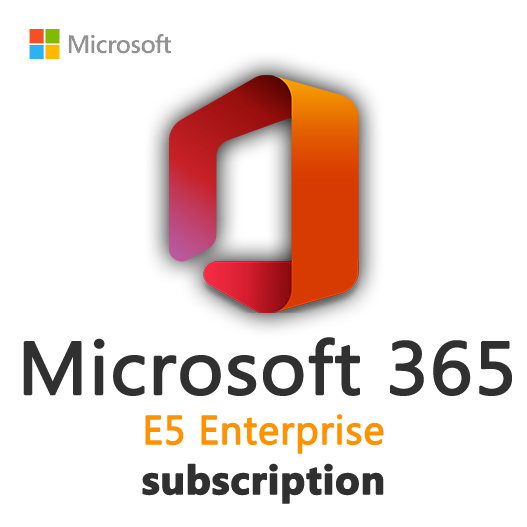 What is Microsoft 365 E5 Enterprise

Microsoft 365 E5 Enterprise is a comprehensive and advanced suite of cloud-based tools and services that offers enhanced productivity, collaboration, and security features for businesses. It includes all the applications and services provided in Microsoft 365 E3 Enterprise, along with additional capabilities tailored for organizations with more complex needs.
With Microsoft 365 E5, businesses can leverage advanced features such as advanced security and compliance tools, advanced analytics and business intelligence, and advanced voice and video conferencing capabilities. These features empower organizations to protect their sensitive data, gain deeper insights from their data, and enable seamless communication and collaboration across teams and departments.
Microsoft 365 E5 Enterprise also provides enhanced security measures like Advanced Threat Protection (ATP), which helps protect against sophisticated cyber threats, and Advanced Compliance, which assists in meeting regulatory requirements and managing data governance effectively.
Furthermore, Microsoft 365 E5 offers advanced productivity tools, including powerful cloud-based applications such as Power BI, Power Apps, and Power Automate, which enable businesses to automate processes, create custom applications, and visualize data for better decision-making.
Microsoft 365 E5 apps included
Features unique to Microsoft 365 E5
Azure Active Directory Premium 1 & 2
Enhance security, simplify access, and set smart policies with a single identity platform.
Protect your organization against sophisticated attacks such as phishing and zero-day malware.
Azure Information Protection Plan 2
Discover, classify, label, and protect sensitive documents and emails.
Information protection and governance
Identify risks by locating data and understanding how it's used. Help safeguard data where it lives by configuring protection and retention labels.
Microsoft Purview Insider Risk Management
Use native and third-party signals with built-in privacy controls to identify, investigate, and remediate malicious and inadvertent activities in your organization.
Microsoft Teams Audio Conferencing
Conduct or call into meetings from your phone with Microsoft Teams Audio Conferencing, which allows up to 250 phone attendees.
Deliver insights to enable fast, informed decisions with business analytics.
Microsoft Defender for Endpoint
Scale your security with a unified endpoint security platform for preventative protection, post-breach detection, automated investigation, and response.
Microsoft Defender for Identity
Use a cloud-based solution that helps protect your organization's identities from multiple types of advanced targeted cyberattacks.
Microsoft Defender for Cloud Apps
View apps used in your organization, identify and combat cyberthreats, and monitor and control data travel in real time.
Microsoft Purview eDiscovery
Help your organization find relevant data quickly and cost-effectively.
Built-in non-Microsoft connectors
Empower multiple compliance solutions with high-fidelity data ingestion from a multitude of non-Microsoft data sources including social media platforms, instant messaging platforms, and document collaboration platforms.
Microsoft 365 E5 features

Powerful for employees. Consistent for IT. Secure for all.

Microsoft 365 admin center
Set up your organization in the cloud. Manage users and subscriptions, reset passwords, and much more.

Endpoint analytics proactive remediation
Fix common support issues with proactive remediations in endpoint analytics before end-users notice.

Azure Information Protection Plan 1
Control and help secure email, documents, and sensitive data that you share outside your company.

Sign in to laptops, tablets, devices, or apps fast and password-free.

Connect remote users without the need for traditional Virtual Private Network (VPN) connections.

Windows Defender Application Control
Help prevent malicious code from running by ensuring only known good code can run.

Windows Information Protection
Help protect enterprise apps and data against accidental data leaks on enterprise and personal devices.

Increase your visibility and control over your organization's security posture with a centralized dashboard.
Microsoft Purview eDiscovery
Find relevant data with basic organization-wide or location-wide retention policies, Teams retention policies, core e-discovery, and litigation hold.
Automate Windows and Microsoft 365 updates.

Microsoft Security and Compliance Center
Monitor your overall compliance posture, review recommended actions, and configure settings to meet complex compliance obligations.

Microsoft 365 Apps for enterprise
Install Word, Excel, PowerPoint, OneNote, and Access (PC only) on up to five PCs or Macs, five tablets, and five smartphones per user.

Stay on top of it all with Lists, the smart information tracking app.

Eliminate print server needs and enable users to print from the cloud.
Proactively remediate common end-user device issues, reduce support calls, and improve end-user productivity.

Reduce overall costs of deploying, managing, and retiring Windows devices by leveraging cloud-based services.

Enable your workforce to be productive on all their mobile devices, while helping to keep your organization's information protected.

Microsoft 365 for mobile combines Word, Excel, and PowerPoint with exclusive features to make it your go-to productivity app.

Connect and stay organized with email, calendar, and contacts all in one place.

Chat, meet, share files, and work with business apps within a shared workspace.

Engage and inform with intelligent video.

Power Apps for Microsoft 365
Build the business apps you need and extend or customize the apps you already use.

Power Automate for Microsoft 365
Make repetitive tasks easy with workflow automation.

Power Virtual Agents for Teams
Respond to business needs with custom chatbots for Teams.

Build with confidence on a low-code database for Teams.

Plan your day and manage your life.

Microsoft Viva Insights (personal insights)
Help employees thrive with data-driven, privacy-protected insights and personal wellbeing experiences.

Microsoft Viva Connections
Keep employees engaged and informed with a modern engagement experience.

Create, share, and collaborate with Microsoft 365 on the web.

Microsoft Defender Credential Guard
Help protect derived domain credentials.

Azure Active Directory Premium 1
Enhance security, simplify access, and set smart policies with a single identity platform.

Connect and engage with enterprise social networking.

Create visually striking newsletters, presentations, and documentation in minutes

Microsoft Defender Antivirus
Help protect against software threats like viruses, malware, and spyware across email, apps, the cloud, and the web.
Organize teamwork with intuitive, collaborative, visual task management.

Microsoft Purview Data Loss Prevention (for email and files)
Use automatic or ad-hoc policies to help protect sensitive messages regardless of the recipient's email domain.

Address threats of data theft or exposure from lost, stolen, or inappropriately decommissioned computers.
Microsoft Viva Engage (community and conversations)
Build meaningful relationships at work by giving employees a place to connect, express themselves, and find belonging.

Create, edit, share, and coauthor professional diagrams and flowcharts with Visio for the web.

Share and manage content, knowledge, and applications to empower teamwork.

Access, share, and collaborate on files from anywhere.

Work smarter with business-class email and calendaring.

Simplify how customers schedule and manage appointments.
Processor : 1 gigahertz (GHz) or faster x86- or x64-bit processor with SSE2
Operating System : Windows 11, Windows 7 Service Pack 1, Windows 8.1, Windows 10, Windows 10 Server, Windows Server 2012 R2, Windows Server 2008 R2, or Windows Server 2012
Memory : 1 GB RAM (32-bit); 2 GB RAM (64-bit)
Hard disk drive : 3 GB of available disk space
Display : 1024 x 768 resolution
Processor : Intel processor
Operating System : macOS
Memory : 4 GB RAM
Hard disk drive : 6 GB HFS+ hard disk format
Display : 1280 x 800 resolution
Processor : Android KitKat 4.4 or later version and have an ARM-based or Intel x86 processor.
Operating System : OS version: KitKat (4.4.X) or above
Memory : 1 GB
Hard disk drive : N/A
Display : N/A
Processor : N/A
Operating System : Office for iPad® and iPhone® requires iOS 10.0 or later. Office for iPad Pro™ requires iOS 10.0 or later.
Memory : N/A
Hard disk drive : N/A
Display : N/A
Additional information
| | |
| --- | --- |
| Manufacturer | Microsoft |
| Licensing Type | Retail, Subscription |
| Licensing Term | 12 Months |
| Plateforme Supported | Android, iOS, Mac, Windows |
| Users Supported | 50 Users |
| Devices Supported | 250 Device |
| Language | All Languages |
| Delivery Method | Digital Instant Delivery |
Why Choose Super License Key!